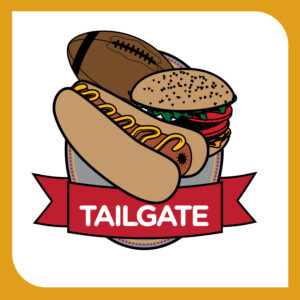 While tailgating usually means someone following you too closely on the road, it means something totally different during football season. Whether you're tailgating in the lot before a Ravens, Washington Football Team, Terps, or Navy game or just in your backyard before watching on TV, tailgate parties take a lot of work. We compiled a list to help you make this the best tailgating season yet.
Do Your Research
Make sure the stadium you are going to allows tailgating. If you are planning on bringing alcoholic drinks, double-check that they are allowed. Plan to get to the game several hours early, so you have plenty of time to cook, eat, and allow time for your grill to cool down before the game starts.
Delegate Food Options
To ensure you have a variety of different foods, tell people what to bring. You don't want to end up with a bunch of chips and nothing else to eat. You can even set up a Google Doc and have your participants write down what they are bringing to make life easier.
Bring Several Coolers
You want at least one cooler for drinks and another for meats. You don't want to be reaching past bags of raw meat to grab a drink! Don't forget to fill those coolers up with ice.
Keep Your Food Safe
Make sure your food is kept at safe temperatures. You will want to keep your cold foods cold and your hot foods hot. Here is an article about food safety from the U.S. Department of Agriculture (USDA). You will also want to bring non-breakable containers made from plastic so you can stay safe in the event a dish is knocked off of the table.
Don't Forget the Obvious!
You don't want to forget items like utensils, plastic cups, BBQ tools like spatulas, tongs, charcoal, and a lighter, or even things like folding tables and chairs.
Plan for the Weather
Check the weather and plan accordingly, whether it's rain gear, jackets for cold weather, or even extra water for hot days so nobody gets dehydrated.
Bring Games
While it may be fun to sit around and talk about sports, there are so many more things you can do, too. Now, more than ever, there are so many games available. Country Living compiled a list of 24 different games for tailgates.
Don't forget to Clean Up!
Bring trash bags, a fire extinguisher, and even a plastic tub for used utensils, food containers, and anything else that can make your car dirty. Clean up after yourself before you watch the game and dispose of charcoal in designated locations.
Have a Designated Driver
Confirm you have a designated driver in your tailgating lineup to make sure everyone can get home safely and make it to the next game.
Have Fun!
While planning a tailgating party is a lot of work, make sure you also enjoy yourself. If you're not having fun, most likely, your guests aren't either. We hope your team wins the game!