Schools in Maryland are opening back up for in-person learning after a year of online school. Now is a good time for a refresher on maneuvering the roads with schools, buses, and students walking in neighborhoods.
Maryland law requires vehicles on both sides of the road to stop completely for buses picking up or dropping off students. (On divided highways, only traffic traveling in the same direction must stop). The penalty for passing a school bus with a stop-arm extended and its red lights flashing is a fine of $570 and three points against your license.
In over 23 states across the country, buses are equipped with stop-arm cameras to catch drivers passing by while the stop-arm is extended. Similar to red light cameras, these devices are mounted on the side of the school bus and take photos of passing cars. The automated photo violation carries a $250 fine in Maryland.
Here's a great visual guide on navigating the roads with school buses: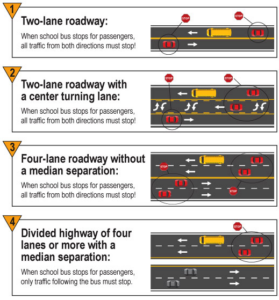 During the morning before school starts and right when it gets out, the roads can get hectic. Parents are dropping students off at school, buses are lining up for drop-off or pick-up, kids are walking to and from school or the bus stop, and crossing guards are delaying traffic. Drivers are faced with many potentially dangerous situations. These simple tips can help you maneuver the roads and get to your destination safely.
Plan out your commute: If the bus in your neighborhood arrives at the bus stop at 7:30 am, try to leave five minutes before or after that time to avoid a buildup of cars or take another route away from the bus stop. You may also want to double check the bus schedule. The times for this school year may have shifted from prior years. Your local board of education website has bus stop times and locations listed to help you navigate your course.
Know your route: Be aware of the schools, bus stops, crosswalks, and the places where cars stack up to drop off and pick up students along your commute route. Also, know the times that those areas have higher volumes of school-related traffic.
Watch out for surprises and delays: Buses will wait for stragglers. Parents will take photos of the little ones getting on the bus for the first time. Around high schools, you'll encounter teen drivers who are driving themselves to school. Students who walk to school may be on a new route when walking before school and after extracurriculars so, stay aware at crosswalks and around your neighborhood, even outside of the normal school hours. During the school year, there may be games that cause more traffic than usual on the roads so, be wary for students walking at night and some traffic backups on the roads.
Pay extra attention: Keep your eyes peeled for students running to make the bus or crossing the street outside of the designated crosswalk. Kids, especially those with very early buses or whose eyes are buried in their phones, don't always remember to watch for cars.
These simple tips can ensure everyone reaches their destination safely.
Maryland Auto wishes students good luck entering the new school year.