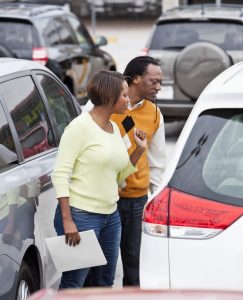 Presidents Day weekend is the kickoff to the sales year for Auto dealers and a well-known time of year to get good deals on a new car. Dealerships take advantage of increased inventory of new year models and available manufacturer incentives. If you're shopping for a new car, you can't forget to consider insurance costs. If you're in the market for a new car, here are some auto insurance considerations to keep in mind.
Comprehensive & Collision Coverage
Suppose you don't carry comprehensive or collision coverage on your current car but need to take out a new vehicle loan. In that case, your bank or lienholder will require you to have these additional coverages while you're paying off the loan. Owners who've held only the mandatory liability insurance on their car may encounter sticker shock when their newly financed car requires comprehensive and collision coverages. Once you've identified the vehicle you are interested in purchasing, contact your insurance agent to get a quote on the new vehicle with the needed coverages to have an idea of your additional costs.
For more information on the types of coverage available, visit Maryland Auto's summary of coverage requirements.
Research vehicle theft rates
Cars with higher theft rates are more expensive to insure. The National Highway Traffic Safety Administration (NHTSA), in conjunction with the FBI and the National Crime Information Center, publishes a database of theft rates by manufacturer, year, make, and model. Check the theft rate on your preferred make and model before purchasing. While data may not be available on new models, you can get an idea of how previous year versions of your preferred car have performed. Also, check with your salesperson to see what anti-theft features are available.
Anti-theft and safety features
Some insurers offer discounts for vehicles with anti-theft features such as alarms, tracking devices, and proximity ignition systems. Additionally, safety features that prevent injury or accident avoidance systems can also qualify for discounts.
New versus used
While carrying comprehensive and collision coverage protects your vehicle investment, if insurance costs are a concern, you may consider options that don't require comprehensive and collision coverage. Instead of financing a new car, which requires those coverages, you can purchase a less expensive, used vehicle where you don't need to take out a loan. This option allows you to carry only liability insurance. While this will save you money, keep in mind that liability coverage will only pay for damage to other vehicles or property if you are at fault for an accident. Your policy won't cover damage to your car.
New versus leased
Sometimes, leasing a vehicle sounds more appealing. You have a lower monthly payment and can get another leased vehicle when the lease term is over. While Maryland Auto doesn't consider whether you own or lease your vehicle, other insurance carriers might, which could make your premiums more expensive. You may also want to look into extra costs associated with leasing a car versus owning. Similar to a vehicle with a loan, if you lease a vehicle you will be required to carry comprehensive and collision coverage on the car for the lease duration.
Down payments and deductibles
When you purchase your insurance policy, there are two things you can do to lower your monthly payments. Paying a higher down payment at the time of purchase will decrease the amount of premium remaining to be paid in your monthly payments, making those payments lower throughout your policy. Choosing a higher deductible can also lower your monthly payments. Be sure to talk through all of your payment options with your insurance provider to ensure you are getting the best policy for your financial needs.
Drive safe and stay in force
Once you have your new car and your new policy, you can qualify for better rates and discounts by driving safely. Don't drink and drive, don't speed, and don't text and drive. Avoiding traffic violations and accidents will help you qualify for safe driver discounts. Keeping your policy in force will help you avoid uninsured motorist fines, which can cost up to $2,500 per year in Maryland – per vehicle. Keeping your policy in-force may also qualify you for better rates when your policy comes up for renewal.
Buying a new car is a scary and exciting experience. Enjoy the process. Make sure to do your research, and don't forget to consult with your insurance provider to ensure that your new vehicle's insurance costs fit into your budget.
If you don't already have an insurance agent, click here to find an authorized Maryland Auto Insurance provider in your area.