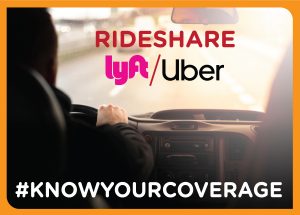 Driving for a rideshare or "transportation network service" such as Lyft or Uber has become a popular primary source of income for many people as well as a way to earn additional money on the side. However, if you are interested in driving for a rideshare service, you may need to change your insurance policy or purchase additional coverage depending on your current policy coverage.
Your Private Passenger Auto Policy (PPA policy) covers you and your vehicle for personal use. It does not provide coverage for your car while driving for a rideshare service or during other commercial use. This exclusion is typical of most auto insurers. However, there are options to cover you at all times.
The state of Maryland requires ridesharing companies to provide coverage for you and your vehicle while logged into their ridesharing applications. If you are using your vehicle for personal use and driving for a rideshare on the side, you may not need to purchase any special coverages. Uber and Lyft provide liability coverages slightly higher than Maryland's legally required liability minimums and will also offer comprehensive and collision coverage to you if you carry those coverages under your policy. That being said, it's always recommended and a best practice to consult your agent on which coverages and policy type best fits your specific needs.
If you use your vehicle for any type of commercial operation, you should consider a Commercial Auto Policy. Maryland Auto provides coverage for a wide range of commercial uses, including policies specific to public transportation ("transporting people for a fee," such as UBER or LYFT). A commercial policy may be a good option if you drive for a rideshare more than just part-tome. Your agent or provider can advise you on what type of policy best fits your needs and request a quote from our Commercial Auto Underwriting Team.
If you have questions about your current policy, you can always contact your insurance provider to learn more about the coverages you have and to discuss whether you may need to purchase additional coverage while driving for a rideshare through a Commercial Auto policy.
Learn more about insurance coverages.
Learn about insurance coverages through Uber.
Learn more about insurance coverages through Lyft.