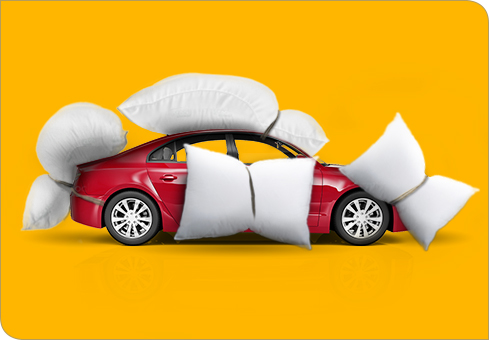 Uninsured motorist coverage is a required coverage in Maryland. Uninsured motorist coverage provides coverage if you're involved in an accident and the at-fault driver does not have insurance. This coverage typically carries the same limits as your liability coverage. and covers damages to your vehicle and injuries to any injured occupants in your car.
Underinsured motorist coverage is a lot like uninsured motorist coverage in that it carries the same limits as your liability coverage. It is there to protect you if you are involved in an accident with an at-fault driver who does not have adequate liability coverage to handle all of the damages and/or injuries they caused in an accident.
For example, a red car runs a traffic light and hits a blue truck. The red vehicle carries the state minimum liability limits, which require $15,000 of coverage for property damages. The blue truck has $25,000 worth of damage. The red car does not carry enough liability coverage to handle the $25,000 in damages to the blue truck. In this case, the owner of the blue truck could make a claim through their own insurance company to cover the remaining $10,000 in damages to their vehicle. The insurance company for the blue truck would handle the damages through the underinsured motorist coverage. While the red car does have insurance, he does not have enough coverage to repair all the damages he caused to the blue truck.
Since the red car does not have sufficient liability limits, the owner of the red car would be personally liable for the remaining $10,000 out of his pocket. The insurance carrier of the blue truck would seek reimbursement from the owner of the red car for what they paid to repair the blue truck. The owner of the blue truck or the insurance company of the blue truck could also sue the owner of the red car for not carrying enough insurance to cover the damages.
As technologies in vehicles advance, repairs also cost more. What may look like a dented bumper could also include damaged sensors, cameras, and other electronics, making the repairs even more expensive than they initially appear.
While you have uninsured and underinsured motorist coverage under your policy, you should also review the liability coverage you have available under your policy. Not having sufficient liability limits puts you at risk if you cause an accident in which injuries or damages are more than your liability coverage can cover. You want to ensure that you have enough liability limits to protect yourself, your family, and your assets if you cause an accident. Reach out to your agent, or find one here to discuss whether you should increase your liability limits.