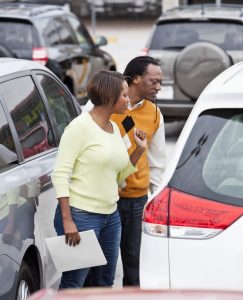 Presidents Day Weekend is a great time to find sales and discounts, especially at car dealerships. Although dealers may have smaller inventories this year due to the shortage of semiconductor chips (which are used in computerized controls on many vehicles), some dealers are still offering some good deals on both new and leased vehicles.
If you're shopping for a new car this weekend, it's important to consider insurance costs along with the price of the vehicle itself. Here are a few auto insurance considerations to keep in mind if you're in the market for a new car.
Comprehensive and Collision Coverage
If you're buying a new car and will be financing the payments, your bank or lienholder will require you to carry comprehensive and collision coverages while you're paying off the loan. Owners who've held only the minimum coverages on their car may encounter sticker shock when their newly financed car requires comprehensive and collision coverages.
Once you've identified the vehicle you are interested in purchasing, contact your insurance agent to get a quote on the new car with the needed coverages to get the full picture of your monthly costs – car payment plus insurance.
For more information on the types of coverage available, visit Maryland Auto's blog Electing the Right Coverages for You Under Your Policy.
New Versus Used
While carrying comprehensive and collision coverage protects your vehicle investment, you may consider options that don't require the additional coverage. If insurance costs are a concern, instead of financing a new car, you can purchase a less-expensive used vehicle that you can purchase outright. This option allows you to carry only Maryland's required minimum coverages. While this will save you money, it's important to consider that liability coverage will only pay for damage to other vehicles or property if you are at fault for an accident. Your policy won't cover damages to your car.
New Versus Leased
Many manufacturers offer great deals on leases. If you don't log many miles, this may be an appealing option. Leasing a vehicle can offer some benefits – you may have a lower monthly payment than you would on the purchase of a new car and at the end of the lease term, you have the option to either return the vehicle or purchase it. However, when leasing a car, you will be required to carry the same comprehensive and collision coverages as you would need if purchasing a new car. And some carriers may have higher premiums for a leased vehicle, although Maryland Auto doesn't factor this into your rates.
Factors that Affect Insurance Costs
Various factors out of your control can affect your insurance rates, such as your age, gender, and residence address. Other factors may also be your driving history and, in some cases, your credit score. Keep in mind that the vehicle you choose can affect your insurance costs as well. Factors such as age of the vehicle, average repair costs for that make and model, the weight of the vehicle, and theft history for the specific make and model may make premiums more expensive.
On the other hand, features and technologies like accident avoidance systems and anti-theft devices, which protect the vehicle and its occupants may reduce the vehicle premium.
Down payments and deductibles
When you purchase your insurance policy, there are a couple things you can do to lower your monthly payments. Paying a higher down payment at the time of purchase will decrease the amount of premium spread across your monthly payments, reducing the installment price over your policy term.
Choosing a higher deductible can also lower your monthly payments. However, if you are in an accident, you will have a higher out-of-pocket cost. Be sure to talk through all of your payment options with your insurance provider to ensure you are making the best choices to fit your financial needs.
Maryland Auto offers policyholders three different payment options:
Full Paymen

t – You can pay your premiums in full at the time of purchase and receive an 8% discount on the total premium cost.

Interest Free Installment Plan

– Maryland Auto offers an interest-free installment plan allowing consumers to save on the overall cost of the policy. However, this option requires a slightly higher down payment than financing your premiums.

Premium Financing

– Policyholders can also choose to finance their premiums through an authorized third-party lender. While premium finance companies can offer a lower down payment, interest is charged over the policy payment term.
Remove Unnecessary Coverage
While having the additional comprehensive and collision coverage can feel reassuring, it may not always be necessary depending on the type of car you drive. A good rule of thumb is the "10 percent test," which recommends you to drop your comprehensive coverage if the cost exceeds 10% of your car's book value.
Buying a new car can be an overwhelming and scary experience, but it should also be an exciting and happy time. Make sure to do your research, and don't forget to consult with your insurance provider to review your options before committing
If you don't already have an insurance agent, click here to find an authorized Maryland Auto Insurance provider in your area.