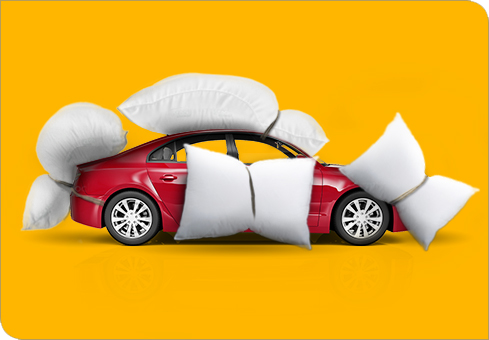 Election day is a great time to talk about electing coverages under your auto insurance policy. Auto insurance can be confusing, but it's an important purchase. It's important to understand the different coverages available to you, which ones are required, and what levels of coverage will help protect you and your financial assets.
Here is an overview of your coverage options. Please keep in mind that we strongly encourage you to discuss your insurance options with a licensed insurance professional to make sure that you are getting the proper coverage for your needs and financial situation. You can find an authorized provider near you, here.
Required Coverages
Maryland requires that you have liability coverage and uninsured motorist coverage on your vehicle. Personal Injury Protection, or "PIP," is also a required coverage, however, some consumers who are just entering the insurance market are able to waive (or "reject") PIP coverage for their first policy, thanks to legislation passed in 2016.
Liability coverage covers injuries caused to people (bodily injury) and damage to property (such as another car or fixed property like a mailbox) that you are responsible for. The minimum liability limits in Maryland are $30,000 for each person injured, $60,000 for all parties injured, and $15,000 for property damages caused – we refer to this as 30/60/15. For instance, you get into an accident with a car that has 5 occupants and you are responsible for the accident, the most your insurer can pay for each person in that vehicle's injuries is $30,000 each, but the most the insurer can pay total for all of injuries is $60,000. The maximum the insurer will pay for damages to that car even if the car is worth more is $15,000, even if the damages exceed that amount. You could be on the hook, personally, for any extra injuries or damages arising out of that accident.
Uninsured motorist coverage is another required coverage in Maryland. This will protect you if someone with no insurance causes injury to you, damage to your vehicle and is solely responsible for the accident. Your uninsured motorist coverage will carry the same limits as your liability coverage, only instead of handling someone else's injuries and damages, it will handle yours. If you are involved in a hit-and-run accident or are skeptical if the other person has insurance, it is very important to take pictures, call the police to have a police report filed, and gather as much evidence as you can. Write down a license plate number of the other vehicle if you are able to, and look for surveillance cameras and potential witnesses. If there are cameras, find out who owns or has access to the footage so you can provide that to your claim representative when the claim is under investigation.
Personal Injury Protection (PIP) covers medical expenses and lost wages related to an accident for you and your passenger(s), regardless of fault. It acts as primary coverage over health insurance if you or a passenger in your vehicle needs to seek medical treatment due to a car accident.
Full PIP coverage pays for doctor's bills and medical expenses up to $2,500 per person for you or your passengers who are injured in your vehicle in an accident, whether they live in your residence or not, pending eligibility through the PIP department. Full PIP can also cover 85% of lost wages for work missed due to an injury incurred from a car accident, with a valid doctor's note. Full PIP can cover replacement of the same value of items needed for a medical purpose if they are damaged in a car accident. For instance, you were wearing glasses in a car accident and they were damaged, you can claim them under your PIP coverage to have them replaced.
Waived/Limited PIP provides PIP to a limited group of occupants in your vehicle. When you sign a PIP waiver, you are not only waiving PIP coverage for yourself, but for anyone who is a Named Insured under your policy, any listed drivers on the insurance policy, your spouse, and any resident relatives in your household over the age of 15. PIP coverage will still be available for passengers 15 or under. When you waive PIP under your policy, you will also not be eligible to collect PIP benefits under anyone else's policy in Maryland if you are injured as a passenger in their vehicle.
Rejected PIP or "No PIP" With this type of policy  PIP coverage  is not available to anyone injured in an accident while occupying your vehicle. This option is available only to those customers who have not had an insurance policy in the last 12 consecutive months. It is intended to help drivers enter or re-enter the insurance market at a lower initial cost, and is not offered by most insurers. (Maryland Auto is mandated to offer the No PIP option).  Just like when you opt for Limited PIP, you will also not be eligible to collect PIP benefits under someone else's policy in Maryland. No PIP is only available on your initial insurance policy. When your No PIP policy comes up for renewal, you will be required to select either Full or Limited PIP.
 Non-Required or Optional Coverages
The following coverages are optional; however, some may be required if you have a loan on your vehicle.
Comprehensive and collision coverage cover damages to your vehicle and carry a deductible, which is the amount you have to pay before insurance takes over the remainder of the repair bill for your damages. If you have a loan on your vehicle or a leased vehicle, your lienholder or leaseholder will require that you purchase these coverages and keep them in force at least until the loan is paid off. This protects their investment – and yours.
Comprehensive coverage covers damages to your vehicle for anything that is not considered a collision. This includes but is not limited to, vandalism, theft, fire, an accident with an animal, a tree falling on your vehicle, and damages caused by "acts of God."
Collision coverage covers damages caused to your vehicle from a collision. It could be from a single vehicle accident such as backing into a mailbox, or a collision with one or more vehicles.
Rental coverage will help you with costs for a rental vehicle while your vehicle is unable to be driven due to a covered loss. The rental coverage through Maryland Auto Insurance covers up to $25 a day up to a total of $750. This coverage only covers the cost of the rental car and will not cover the cost of extra insurance or fuel.
Towing and roadside assistance coverage provides access to 24/7 roadside assistance and towing service. Maryland Auto's towing coverage provides free towing within a 15-mile radius (with a small charge per mile beyond 15 miles), roadside service sigh as tire changing or battery replacement, delivery service for gas or other fluids, and lockout service.  There is no delivery or labor cost but you must pay for the cost of the item, such as gasoline, a battery, or tires.
Other things to keep in mind
Minimum Limits can be less expensive, but may not cover all damages if you are responsible for hitting a very expensive vehicle, building, or injuring someone badly. You can be sued and your assets, such as your home or your future income can be at risk. If you are unsure if you have sufficient coverages available for your needs under your policy, you should speak with an insurance professional, such as your agent, to review your policy. You can find an agent here.
Driving without insurance is illegal in Maryland. If you allow your insurance to lapse you will begin to accrue uninsured driver penalties. For the first 30 days you will be charged a flat penalty of $150. After 30 days, you will accrue $7 per day in penalties, as long as the vehicle remains uninsured. Over the course of a year, that works out to $2,500 (more than the average cost of an insurance policy). Oh, and those penalties are per vehicle. So, if you have two cars on your lapsed policy, double those penalties.