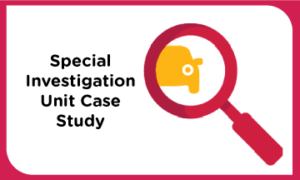 Insurance professionals at Maryland Auto are dedicated to identifying and preventing fraudulent claims. Our Special Investigations Unit (SIU) has developed strong working relationships within the local law enforcement community. Sometimes, in the course of a fraud investigation, we find that the would-be scammer is wanted for other crimes. Recently, a fraud investigation around a questionable arson claim resulted in our SIU team and a partner law enforcement agent assisting in the apprehension of an individual wanted for murder.
Arson is one of the many ways that scammers attempt to defraud insurance carriers. According to the Coalition Against Insurance Fraud, 8,500 cars were intentionally set on fire in 2018.
In this case, a Maryland Auto policyholder presented a claim stating their vehicle had been stolen and burned while they were asleep in another city. Our SIU team worked with a local Fire Marshall to obtain details about the vehicle fire.
These teams obtained security video from the scene, which showed the vehicle in question arriving at a warehouse. The video also clearly showed the driver, who bore a striking physical resemblance to our policyholder, emerging from the car prior to the arson. Phone records for the policyholder indicated that a call was placed to someone who lived only a few blocks away from the warehouse shortly before the fire. The recipient of this call was someone who had also been connected with other fraud investigations.
Because theft was alleged and arson was suspected, the authorities entered the vehicle information in the National Crime Information Center (NCIC) system. From this database, it was discovered that the policyholder was wanted by law enforcement in a neighboring state on an outstanding warrant for second-degree murder.
The policyholder was scheduled to meet with the SIU investigator to present an Examination Under Oath (EUO) regarding the total fire loss of the insured vehicle. Local law enforcement consulted with our investigator ahead of the planned conference, which was scheduled to be held at the producer partner's (agent) office. Arrangements were made to have the local authorities serve the murder warrant following the examination.
The policyholder appeared for the EUO and could not explain the troublesome details about this theft and subsequent arson. He also had no explanation for calling the person who lived near the warehouse, and who had a history of involvement in questionable claims just prior to the fire.
When our SIU team had completed their examination, the law enforcement personnel entered the conference room and to arrested the policyholder on the murder warrant.
Committing insurance fraud does not pay. In this case, had the policyholder not chosen to present a fraudulent claim, he might still be eluding authorities. But the policyholder's fraud attempts further trapped him in a much greater legal dilemma.