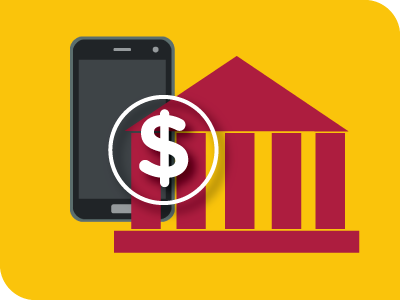 How do I pick a bank?
Selecting the bank account that fits your needs is one of the first steps to successfully accomplish your financial goals.
There are lots of things you can do with your money: You could deposit all of it into a checking or money market account so you can spend and make deposits easily and often; you could split your money among checking and savings accounts to earn interest or dividends from investments; or you could cash your paychecks and store your money under your mattress (we don't recommend that last option).
Bank accounts provide a safe location to store your money. Most banks are covered by the Federal Deposit Insurance Corporation (FDIC) which provides insurance for your deposited money.
Here are some resources to help in choosing a bank:
How to Choose a Bank (US News & World Report)
How to Choose a Bank (NerdWallet.com)
How do I pick the right type of bank account for me?
Depending on your needs and whether you prefer to have unlimited access to your money or are more interested in earning interest, there are several types of bank accounts available to you. Checking accounts and savings accounts are the most common types. Beyond those two types of accounts, banks also offer services such as cashier's checks and certificates of deposit (CDs).
Here are some resources to help you understand the different types of accounts and your options:
Bank Accounts (HelpWithMyBank.gov – Office of the Comptroller of the Currency/U.S. Treasury)
Pick the Right Bank Account to Match Your Savings Goal (NextAdvisor – Time.com)
What's the difference between a bank and a credit union?
You also have the option to enroll in a credit union for your banking needs. Credit unions are nonprofit financial institutions owned by their members.
You typically must meet certain eligibility requirements in order to enroll in a credit union, such as federal or state government employment, military service, or membership in a union.
Here are some resources to help determine if a credit union is the right option for you.
Credit Unions vs. Banks: How to Decide (NerdWallet.com)
What's The Difference Between a Bank and a Credit Union? (Forbes.com)