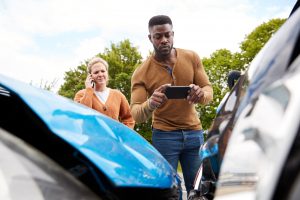 Being involved in a car accident is scary. You may be unsure of what you need to do among all of the stress, but it is vital to remain calm so you can think clearly.
Check for Any Injuries
If you or any of your passengers are injured, call 911 for help. If you are injured, try not to move and wait for emergency personnel to arrive.
Move Your Vehicle
If your car is blocking traffic and is safe to drive, try to move it out of the way or to the side of the road. Blocking traffic can cause additional accidents to occur and put you in harm's way. If you cannot move your vehicle, get over to the side of the road away from the cars involved in the accident and traffic.
Call the Police
Calling the police is especially important if the accident is a hit-and-run. Sometimes the police won't respond if the accident is minor, but you still need to call the police to report the accident. A police report can help make sure you have all of the information about others involved in the accident and may even help determine who is responsible for the accident.
Gather Information
Obtain information about the other parties involved in an accident. You will especially want the name, contact information, driver's license number for the other vehicle(s) drivers, and any vehicle information such as the year, make, model, color, license plate number, insurance information, and VIN.
Look for any eyewitnesses to the accident and obtain their names and contact information. This information can be beneficial to your insurance company later if there are any disputes about the accident.
Take photos of any vehicles and property damages from the accident. Photographs of the accident scene can also be helpful to your insurance company. In fact, many insurers including Maryland Auto use apps that allow involved parties to submit photos of their vehicle damages for an estimate.
Photographs that give context of traffic and weather conditions or any other contributing factors can be helpful as well.
Write down the accident scene address or location and any police officer and police report information.
Do not sign any documents unless it's for the police or your insurance agent, and do not tell anyone that the accident was your fault – even if you feel that it was.
File a Claim
Once you have all of the information about the accident, you should file a claim with your insurance company. Typically, the information for reporting a claim is on your current insurance identification card, which all Maryland drivers are required to have when operating a vehicle.
Maryland Auto policyholders can report a claim either online 24/7 by clicking here or by phone at 1-800-492-7120 during normal business hours (Monday through Friday from 8 am until 5 pm).
You can find more information about the steps to reporting a claim here.
Keep All Receipts
If you have your vehicle towed or any minor repairs completed to keep your car drivable, or even obtained a rental car. Even if you don't have those coverages available through your policy, if the other driver is deemed to be at-fault in the accident, their insurance company may be able to reimburse you for those costs. Keep in mind to not incur any expenses if it is something that you are unable to afford, just in case they will not be reimbursed.
Once a claim is filed, a claim representative will contact you. At Maryland Auto, your claim representative will contact you within 24 hours of receiving the claim to discuss the details with you. You can find more claim options here and even read some FAQ's to make the process less stressful here.