Summer is coming to a close, which means it's back to the books. While you are creating your back-to-school checklists, make sure to consider what you need for your car, too.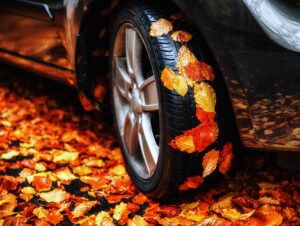 1. Windshield Wipers
Replacing windshield wipers will be helpful when it comes to rain and snow, as the blades can begin to lose contact with your windshield and cause excessive streaking.
2. Oil Change
Changing your oil is crucial to keeping your engine clean and running smoothly. It's important to change your oil around every 3,000-10,000 miles, depending on your vehicle.
3. Car Battery
The average battery life for a car is around three years. After 4-5 years, you should change your battery. When driving, you can feel and even hear if your brakes need to be changed. If your brakes need changing, it's crucial to do so, especially in the circumstances of rain and snow. If your tire is flat, it's a great idea to check for any holes or punctures in your tire while adding more air (most gas stations have free air pumps).
4. Inclement Weather
When driving in bad weather, it's essential to be cautious on the roads. During the fall, wet leaves on the streets can create a slippery ground for your tires. Make sure to avoid big patches of leaves on backroads to avoid hydroplaning. Leaving an emergency bag in your car with important supplies such as water, a flashlight, socks, and other things you may need if you are stranded, can be very helpful, and even lifesaving if your car is disabled during a rain or snowstorm.
5. Parking
The availability of parking varies by school. No matter the difficulty in finding a spot, parking will most likely cost you a bit of money. Depending on your school, you may be lucky to find free parking on the outskirts of campus. Be wary of street parking rules that prohibit parking on a specific day for street cleaning. Look out for street signs that may indicate where not to park or what times to move your car. If you park on the street, be safe and push in your mirror that faces the street to avoid any damages. Your college may have an alert system set up with emails and texts so they can notify you of any inclement weather or parking lot alerts.
6. Insurance
If you are not taking your car to school, or if you are taking it but won't be driving it very often, you may be able to reduce your insurance premium. Talk to your insurance agent before heading back to school to review your options.