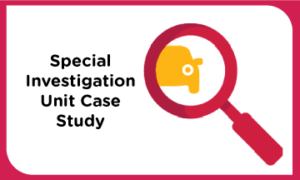 According to a 2021 survey from ValuePenguin, more than 20% of consumers have lied to their insurance providers. Insurance fraud can be classified in two categories: hard fraud and soft fraud. Hard fraud involves deliberately causing damage in order to collect on an insurance policy. Soft fraud is more common, and includes exaggeration of the amount of damages in order to increase the insurance payment. Soft fraud also includes, misrepresentation or intentional omission of information to obtain a lower insurance premium.
This case began when a Maryland Auto policyholder's car careened off the road into a large sign in the median. The vehicle was insured for liability coverage only. This means that there was no coverage to repair the damage to the car. When the policyholder reported the claim to Maryland Auto, the policyholder blamed an out-of-control "phantom" vehicle, but because there was no impact with another car, and an unfavorable police report, uninsured motorist coverage was not an option either.
However, the policyholder did have Personal Injury Protection (PIP) coverage on their policy and filed a claim for injuries sustained from the accident. He also submitted a lost wage claim through his PIP coverage.
The policyholder submitted the lost wage claim for nearly a thousand dollars. The wage claim form was sent to Maryland Auto via fax. Fraudsters often submit falsified documents via fax, email, or in-person to avoid possible federal charges associated with sending them through the U.S. Postal Service. Maryland Auto employees are trained to spot suspicious loss indicators or "red flags," such as these. While one suspicious loss indicator doesn't mean the claim is fraudulent, the adjuster kept this in mind while continuing to investigate the claim.
The PIP Adjuster called the phone number the policyholder provided for his employer, only to be told she had reached the wrong number. The adjuster contacted the policyholder to ask for another phone number for the employer, and when she called this alternative phone number, it was also incorrect.
With several suspicious loss indicators, the claim was referred to the Special Investigations Unit (SIU) for further review. The SIU investigator researched the policyholder's employer through several databases but could not verify the legitimacy of the business.
The SIU investigator visited the employer's address but failed to locate the alleged organization. After searching for the business phone number on the original form, it was discovered that it belonged to the policyholder's mother.
The SIU invited the policyholder to complete an Examination Under Oath where he could answer questions about his wage claim. The policyholder failed to appear.
The PIP claims were ultimately denied in their entirety for material misrepresentation, and his case was to Maryland Insurance Administration's Insurance Fraud Division for potential prosecution.