April was Distracted Driving Awareness Month but preventing and avoiding distracted driving is important year-round. According to the National Highway Traffic Administration (NHTSA), distracted driving is any activity that diverts attention from driving, including talking or texting on your phone, eating and drinking, talking to people in your vehicle, fiddling with the stereo, entertainment or navigation system—anything that takes your attention away from the task of safe driving.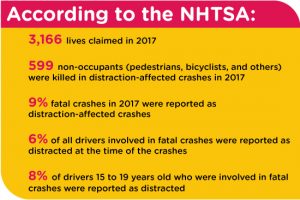 Here are some tips for being safe when behind the wheel.
Turn your cell phone off, connect it to your blue tooth, or put it on airplane mode.
Address vehicle systems like your GPS, seats, mirrors, climate controls and sound systems before hitting the road.
Avoid adjusting your radio, CD, or MP3 player, let your passengers choose the music so you can keep your eyes on the road and not on your playlist.
No matter how far behind you are on your favorite show, don't try to watch a video while driving. Period!
If you're drowsy, pull off the road.
Don't eat or drink while you are driving
Never groom while driving (putting on makeup, shaving fixing your hair, etc.
Pledge to drive free from distractions. Make a commitment to yourself and your loved ones that you will eliminate distractions while driving.
Take The National Safety Council's Pledge for Distracted Driving Awareness Month!