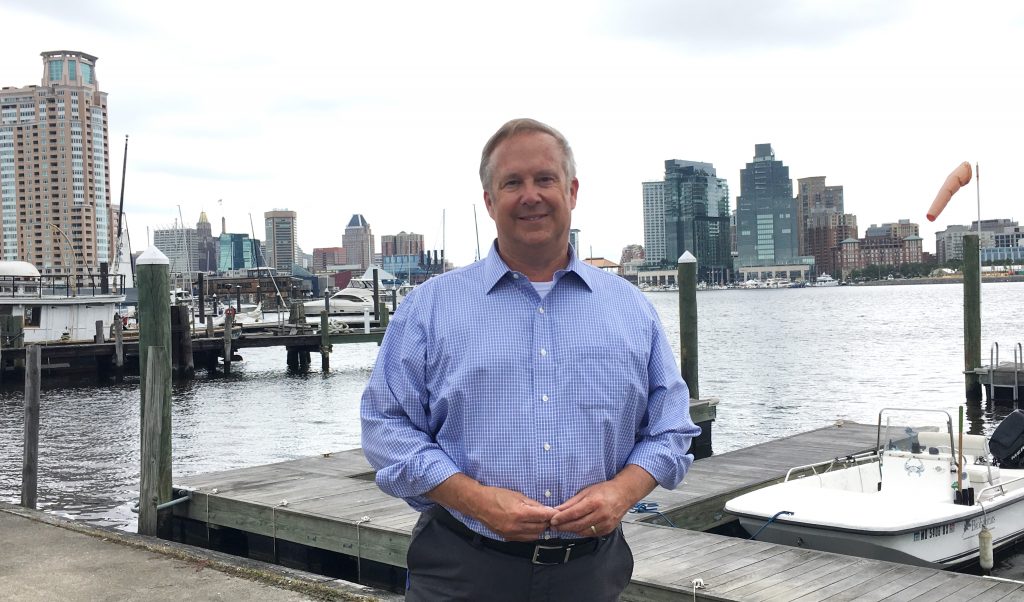 Normally, as people near retirement, they begin to slow down and transition out of day-to-day duties. However, over the last several months, Maryland Auto Insurance Executive Director Mark D. McCurdy has found himself leading a remote workforce through an unprecedented crisis.
During his tenure as Executive Director, Mr. McCurdy has advanced Maryland Auto's mission of providing accessible and affordable insurance to Maryland drivers. Through initiatives designed to educate Marylanders on the state's insurance requirements, enforce existing insurance laws, and empower Maryland drivers to be compliant with those laws, Maryland Auto has become the fulcrum of the state's efforts to reduce the number of uninsured drivers.
In July of 2019, Mr. McCurdy informed Maryland Auto's Board of Trustees of his intention to retire in 2020, signaling the conclusion of his 38-year career of public service. Mr. McCurdy has continued leading the 250-employee company through the selection of his successor and subsequent transition period, encouraging teamwork and assuring Maryland Auto employees that their health and safety are his top priorities.
Since his appointment to the position of Executive Director in July 2015, Mr. McCurdy has led Maryland Auto through a period of significant change. That same year, the company relocated from Annapolis to a new headquarters in Baltimore and executed a corporate rebrand. In addition, Mr. McCurdy has led Maryland Auto in navigating a changing industry landscape, with a shift in the private insurance industry's ability and willingness to underwrite higher-risk drivers.
"It has been impressive to see the results of Mark's transition from Maryland Auto's General Counsel to Executive Director as the organization undertook a major physical move and redefined its branding. He was also instrumental in the transfer of the Uninsured Education and Enforcement Fund from the Motor Vehicle Administration to the Maryland Auto's Uninsured Division. The success of these initiatives owes to the fact that Mark is a keen listener who inspires and empowers his team to give their best to tasks at hand." said Howard County Chief Administrative Officer and Maryland Auto Board of Trustees Member, Lonnie R. Robbins.
"Today, the financials, the employees, and the overall respect for the company have been resurrected. Mark has truly set the bar high for his successor. I will not use the word replacement, because Mark's love for this Maryland Auto mission can never be replaced." says Greg Taylor, President of GEBCO Insurance, a long-time partner of Maryland Auto.
"As that successor, I agree. I can't replace Mark. I can only hope that I can live up to the high standards that he has set," said Al Redmer, Jr, former Insurance Commissioner and incoming Executive Director. "The Board of Trustees made it clear that nothing was broken and I wasn't being brought in to fix anything. My job is to continue building on the successes and good work that Mark and the Maryland Auto team have been doing," he added.
Through company-wide efforts to streamline processes, maximize efficiencies, and reduce costs, Mr. McCurdy led the efforts to stabilize and reverse Maryland Auto's financial situation.
"When Mark took the helm in 2015, Maryland Auto's surplus was in decline. This year, under Mark's leadership, Maryland Auto's surplus increased significantly. This was a remarkable turnaround, and the first growth in surplus since 2007," said Maryland Auto Insurance Board of Trustees Chairman Robert McKinney.
A graduate of the University Of Maryland School Of Law, Mr. McCurdy joined Maryland's Office of the Attorney General in 1982.
During his time with the Attorney General's Office, Mr. McCurdy represented the people of Maryland in several high-profile cases. Most notably, he argued on behalf of the construction of Baltimore's light rail when community groups attempted to block the project (Macht v. Skinner—1989). Thirty-one years later, the framed court document from that case hangs on the wall of his office, just over a mile from the light rail tracks.
After serving with the Howard County Solicitor's office in the early 1990s, Mr. McCurdy returned to the Attorney General's office in 1992 and was assigned to Maryland Auto Insurance. He would remain with Maryland Auto for the next twenty-eight years, the last five as Executive Director.
"Mark views all issues through the prism of public policy, and this has been the guiding principle through his many years of public service," said former Senator Thomas "Mac" Middleton, now an advisor to Maryland Auto. "I have witnessed firsthand Mark's incredible management style. I have never witnessed a more customer and employee oriented organization than Maryland Auto. This is a testament to Mark's leadership."
Under Mr. McCurdy's guidance, Maryland Auto's Legislative Team has established unprecedented levels of engagement and support among members of the General Assembly, resulting in the quasi-state agency taking a lead role in the State's effort to address the issue of uninsured driving in Maryland.
"Mark has been very successful in passing legislation that has been crucial to keeping Maryland Auto's rates stable and more affordable. He has developed close relationships with many legislators, including myself, which have been key to his success in Annapolis," said Senator Middleton.
"Mark, working with the Governor and General Assembly modernized Maryland Auto's structure and role.  He was the moving force behind changes in our corporate governance, and brought Maryland Auto's policies to a new generation of drivers, and was the first to task Maryland Auto with confronting the economic problems associated with uninsured driving. His innovative efforts also lowered the effective cost of auto policies by creating an installment plan, offering a non-pip policy, and highlighting educational efforts to help people get insured. We will miss Mark's innovative mind and collaborative style," Chairman McKinney said.
These legislative efforts also resulted in Maryland Auto being tasked with leading the state's 2019 uninsured auto fine forgiveness program. This program, known as FineFix, was a limited-availability debt relief program that allowed eligible Marylanders with delinquent uninsured motorist fines the opportunity to pay 20% of their balance and have the remaining 80% forgiven. Once enrolled in the program, participants regained the ability to register and insure a vehicle.
Over 23,000 eligible participants enrolled in FineFix between July 2019 and December 31, 2019 with over $37.5 million in fines on track to be forgiven through the program.
"I will never forget the calm, cool personality Mark always displayed in his office and then the explosive personality that took over in Annapolis with debating for the betterment of the Maryland Automobile Insurance Fund," Greg Taylor said. "His hard work and diligence have greatly benefited an enormous amount of lives in the state of Maryland."
"Selecting Mark as Executive Director was the most significant and game changing Board decision in the history of Maryland Auto. Mark is a visionary who capitalizes on people's strengths and understands the insurance industry as no other. His brilliance and creative thinking are unparalleled and have provided a new and broader means to successfully serve the insurance needs of our special constituency, brought new credibility and prestige to the company, and set new standards of performance for future growth. It has been my honor and privilege to be associated with Maryland Auto under Mark's leadership and I count it as one of the key highlights in my long career of public service," said Maryland Auto Board Vice Chair, Audrey Scott.
Like his fellow members of Maryland Auto's Board of Trustees, Mr. Robbins, stated that he, "will miss Mark as Executive Director of Maryland Auto, but know, assuredly, that the organization is stronger and positioned well for the future because of his significant contributions."
Throughout his career of state service, Mr. McCurdy has been committed to advocating on behalf of those members of the community who do not have the voice or resources to speak for themselves. "I've observed that Mark has compassion for our employees and passion for the Maryland Auto mission. He consistently puts people first and embodies the spirit of a servant leader," Mr. Redmer said.
"Maryland Auto was created by the State, and former Governor Mandel, on the idea that those citizens who are not eligible for coverage in the standard market should still be treated with dignity. It's our mission to provide the best service possible at the lowest possible price to a group of people who deserve to be treated with the same dignity as they would receive from the private insurers who refused to cover them," says Mr. McCurdy. "I've taken that mission very seriously during my time with the company, and especially during my term as Executive Director."
As he plans for the next stage of his career, Mr. McCurdy is looking forward to visiting Civil War battlefields and spending more time on the shore with family. He is also excited to be developing his own communications firm. "The art of communication, whether to a jury or with an associate, is both a passion of mine and a creative outlet," he noted. "Executing a vision requires credibility-based relationships and powerful communications skills. Success in the office or in the courtroom must be constructed on those twin pillars. I've taught these points to more than a thousand lawyers, but the value of that message is not limited to attorneys. We all need to be better communicators to enrich our personal and professional relationships and improve our business results. I look forward to demystifying these skills and passing on to others a simple notion: that at the end of the day we are all in sales. Regardless of what you do, you will do it better if you harness the power of relationships and master the ability to get your point across in a very competitive and noisy environment."