While historically a celebration of Irish-American heritage, in recent decades St. Patrick's Day has become associated with high rates of alcohol consumption and, as a result, increased instances of impaired or drunk driving. Nationwide, from 2010 – 2014, the St. Patrick's holiday has resulted in a drunk driving rate 7% above average.
Your gift of blarney will not get you out of a DUI, and the repercussions may follow you for years to come.
In Maryland, a driver with a blood alcohol content (BAC) of .08% or higher can be charged with driving under the influence (DUI). A BAC between .07% and .08% may result in a charge of driving while impaired (DWI).
Drivers convicted of a DUI or DWI face numerous fines:
Towing costs: $150 – $1000
Bail: $1,000 – $10,000
Legal costs: $2,000 – $5,000
Court costs and fines: $150 – $1,000
Alcohol treatment: $300 – $4,000
Ignition interlock system: $550 – $1,000
Not counting insurance costs, a DUI or DWI can cost you anywhere from $4,275 to $22,125 in legal and court fees.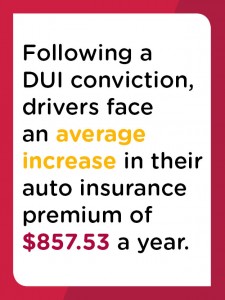 But civil and legal penalties, court costs, and the cost of a lawyer are only the beginning. Following a DUI conviction, drivers face an average increase in their auto insurance premium of $857.53 a year. Not to mention possible jail time, suspension of license, and potential loss of employment. A DUI conviction can remain on a driver's record for up to five years.
Beyond monetary and legal concerns, when you drive under the influence, you put your life and the lives of your passengers and other drivers on the road at risk. Every 2 minutes, a person is injured in a drunk driving crash and every day in the U.S., 27 people are killed as a result of drunk driving accidents.
Maryland's drunk driving laws may become stricter soon. The General Assembly is currently considering legislation that would require ignition interlock devices for anyone convicted of DUI/DWI at or above .08%, an increase from the current standard requiring the use of ignition interlock devices for those drivers convicted of driving with a BAC of .15% or higher. The bill, nicknamed "Noah's Law" in honor of  Montgomery County Police Officer Noah Leotta, who was killed in the line of duty by a drunk driver, recently passed the House of Delegates 136 – 0, and is now under consideration by Maryland's Senate.
So stay safe this St. Patrick's Day by having a plan to get home before you start the night. If you find yourself stuck, you can always call a cab, Uber, or in the DC Metro area, the SoberRide Program offers a free ride home (up to a $30 fare) in the DC Metro area. SoberRide is available until 4 a.m. on March 18 by calling 800-200-8294 (TAXI).